Dinosaur Science Dome in the UK
Dinosaur Dome is designed to explore science, geology and geography in an interactive way. The Dome visits schools and clubs, providing an additional science resource and presenting a different learning experience to children.
Our COVID Secure Planetarium has PPE screens between the presenter and the Bubble Group. We have full air replacement inside the dome with circulation fans and special screens with a full Risk COVID Assessment for the school to inspect.



We provide a mobile planetarium and natural history shows (rocks/ fossils and dinosaurs) to schools, colleges, youth clubs, scouts groups and playgroups. The service is provided in a blacked-out purpose built mobile dome which can be sited indoors or outside using a special all-surround (hemisphere) screen.
See the power of Full Dome immersive films and images to illustrate science and to stimulate young minds. See scary dinosaurs in Full Dome 360 degrees view using an immersive screen.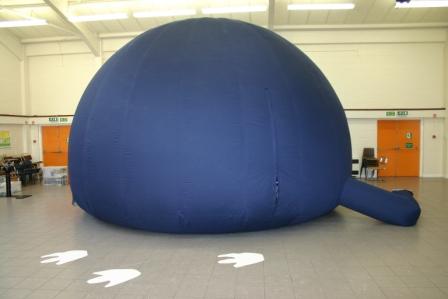 Coronavirus (COVID-19): guidance and support
School Service for Science Outreach
We have been working hard, like schools, to plan the future and I would ask you to bear with us and would be grateful if you could support us fairly soon, this year.
We will work with schools to provide, write and deliver extra tailored school science programme without a Dinosaur Dome or planetarium enclosed area. For example, rocks and dinosaur fossil activity workshops in schools. (if you feel the planetarium too restrictive for social distancing). This would be a fully presented and interactive smart board and experiment- based activity for all the pupils. (Our science centre has many workshops tried and tested written)
Through our science centre called 'Science Zone UK' based in Bournemouth, we can provide workshops with online class tutor (Q&A) on a whole range of topics. We would provide materials such as 'Dry Ice' and chemical vassals by delivery.
Our planetarium is now currently online LIVE every Wednesday throughout May and June from 11am for 'Home Education' for your pupils and families. This is a free service although we are asking for donations of £1 to support staff costs. This is on Facebook LIVE on FB site – 'Science Zone UK' (our science centre)
Our planetarium could deliver online sessions to provide, write and deliver extra tailored science programmes. These are exciting and interactive—as classes can view and ask questions of the tutor about the planetarium as it run through the shows. Live Interactive planetarium shows (LIPS) are the best and you can see examples of this on the LIVE shows on Facebook. Many of the previous broadcasts are saved on Facebook site (Science Zone UK on the video tab) with special Dinosaur Show Days - lots of video to view, however our school offer is a unique tailored online session for you pupils when the pupils are back. This can be delivered on a smart board as a group or PC's. You could also do this as a group on the Home Service at present for your current pupils at home or send them a link. We have different price tariffs for different options.
Our giant planetarium domes come with fully circulation of air and we are going to fit extra air-conditioning to maintain replacement of air flow at a rapid rate and cool temperature. If visitors are allow back at some stage to schools, this would be a great option with a reduced class size – say 15 limit of pupils.
A full day visit costing in the range of £510 (excluding VAT) with a typical day including up to five class shows.
We may charge extra for a sixth show during the day. If your school is located near one of our dome bases (see below), then we may be able to come for a half day. Please apply for half day rates.
Dorset and Hampshire -- the charge is around £455 per day (excluding VAT) with lower special rates for Bournemouth and Poole schools. Please apply for special rates.
Please be aware that we charge a travel and hotel supplement, if we are required to travel a distance from a base in Bournemouth. We have domes now based in London and in the north, Warrington which can travel to your school to help with travel costs.
Click the link below to book

www.sciencediscoverydome.co.uk
OR Phone no: 01202 304734
OR Email: sciencedome@ntlworld.com
Dinosaur Dome offers shows for all age groups, including Dinosaurs, Fossils, Rocks & Soils, and Plate Tectonics & Continental Drift for older pupils. We can provide shows that fit in to your teaching activities in science, geology and geography, giving students an interactive and enjoyable experience that they will not forget!

Dinosaur Dome participants will:

Have fun while learning science in our giant inflatable dome
Experience school curricula presented in a new, exciting way that they will always remember
Be able to ask questions and interact with someone passionate about science with real dinosaur fossils
See the interconnected relationships among sciences such as geology, astronomy, and physics
Be challenged and encouraged to explore science for themselves
Sessions include collections of fossils, rocks, dinosaur bones, ancient oceanic fossils, all to examine and touch by the pupils.